21-22 January 2016
CORPSE
A rehearsed reading of a world premiere by Steven Berkoff at
THE PLEASANCE, ISLINGTON.
"Laurence Olivier, Peter O'Toole, John Gielgud,Ralph Richardson, Richard Burton: Berkoff puts five giants of the stage and a golden era of the classical stage under the microscope in a new play that fizzes with the deliciously sharp turn of phrase and coruscating wit that we have come to anticipate from this icon of the modern stage."
~~~O~~~
1.8.14
Jay is in Edinburgh this August appearing as Archie Bellows opposite Anne Archer in the world premiere of Terry Jastrow's The Trial of Jane Fonda.  See the Theatre page for details.
An Actor's Lament is being revived at The Theatre Royal Margate in May and The Gaiety Theatre Dublin in September.Please click on the Theatre tab for more details.
29.7.13
Spotted: Steven Berkoff's taxi outside the press office. Catch him @AssemblyFest this August! pic.twitter.com/Uro51WG2xP

— Laura Donaldson (@LauraDonaldson5) July 26, 2013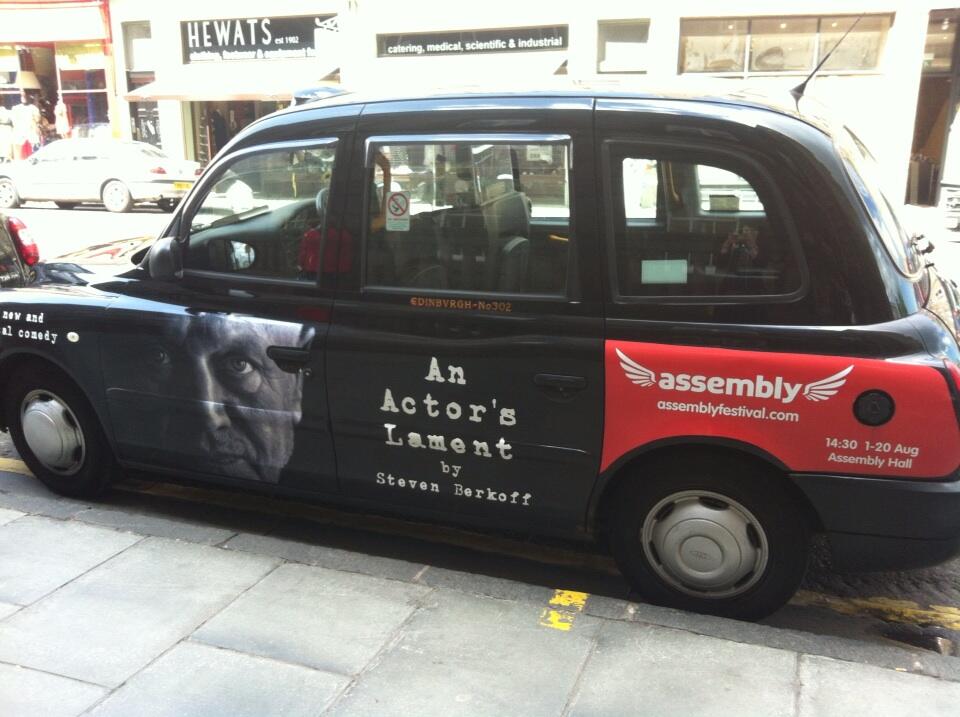 1.7.13
There will be two pre-fringe performances of An Actor's Lament at The Maltings, Berwick-upon-Tweed on the 28th and 29th of July.
3.6.13
An Actor's Lament is heading for the Edinburgh Festival.  From the 1st to the 20th of August, Jay will be appearing opposite Steven Berkoff and Andree Bernard at The Assembly Hall.  More details, and booking information HERE (clickie).
7.1.13
The next performance of An Actor's Lament will be at The Sinden Theatre, Homewood School, Tenterden, on the 13th of February.  Tickets. £17.50 (concerssions £15.00)  from  the box office – 01580 763826 –  or email: j.mander@homewood.kent.sch.uk
29.1.13
STOP PRESS:  On the 1st of February (postponed from the 21st of January), Jay will be appearing opposite Steven Berkoff and Andree Bernard in the premiere of Berkoff's one act play, An Actor's Lament at the Berkoff Performings Arts Centre, Alton College. They've been workshopping the play – a three-hander – for some time, but this is its first public outing. Well worth catching, if you can.
.
13.1.13
Jay can currently be seen in the German Television adaption of a Rosamunde Pilcher short story – A Question of Honour.
.
..
.
13.9.12:
Lilyhammer – in which Jay plays Agent Becker – is now screening on BBC4.
30.3.12:
Viewers in Germany can see Jay playing Richard Franklin in Das Geheimnis der weißen Taube (an television adaption of Rosamunde Pilcher's  "The Man Who Heard Everything") on Easter Sunday.
Lilyhammer has been purchased by the BBC, for screening on eather BBC3 or BBC4 later in the year.
7.10.11:
.
.LILYHAMMER – the new comedy crime thriller series starring
Steve van Zandt, in which Jay has a recurring role as
an FBI agent, has been picked up by Netflix, who have
purchased exclusive rights to stream both Season One
and the forthcoming Season Two, beginning in January 2012.
(With apologies for the slightly odd picture quality – the
scene takes place in a garage …)
,
,
,26.8.11
PAGE EIGHT, in which Jay plays The Master of the College, screened at 9.00pm on Sunday – the 28th of August – on BBC2 and BBC HD.
6.5.11
Sir David Hare's new political thriller PAGE EIGHT – in which Jay plays the Master of Jesus College, Cambridge – premieres at the 65th Edinburgh International Film Festival in June.
14.4.11
Jay will be performing two excerpts from One Day at a Time at STANDING ON THE EDGE – a fundraising event for the Outside Edge Theatre Company – at Southwark Playhouse on Sunday the 8th of May.  7.00pm.  Tickets: £25.00.
CLICK HERE TO BUY TICKETS DIRECT FROM SOUTHWARK PLAYHOUSE
25.1.11
Links to two video extracts from One Day at a Time have been added to the site HERE.
16.12.10
Jay has been announced as one of the three judges of The Romantic Novel of the Year Award 2011.
The other two judges are Amanda Craig, novelist and children's book critic for the Sunday Times and Janine Cook, fiction buyer for Waterstones.
The winner will be announced at a champagne reception at The Royal Horseguards on Monday, the 7th of March.
~~~:oOo:~~~
29.11.10
ONE DAY AT A TIME has now completed its three week tour of London
For details of the play, with production shots, please visit the ONE DAY AT A TIME page HERE.
~~~:oOo:~~~
7.11.10
Final dress rehearsals:
Opening night:
Tuesday, 9th November.
(Photos –  Copyright:  Phil Fox/
Outside Edge Theatre Company)
~~~:oOo:~~~
28.10.10
Jay is now in the final two weeks of rehearsals for One Day at a Time, which opens on
the 9th of November at Tara Studio, Earlsfield.  The photograph below
(Copyright: Phil Fox/Outside Edge Theatre Company) shows Cathy Walker as
Lois Wilson and Jay as Bill Wilson:
(If you have a Facebook account, you can see more rehearsal photographs HERE.)
—:oOo:—
10.10.10
We're pleased to announce that Jay has been confirmed in the role of
Bill Wilson in a new play, "One Day at a Time", with
The Outside Edge Theatre Company which will be touring
London in November.
(The image below should enlarge if you click on it.)

Written and directed by the Artistic Director of Outside Edge,
Phil Fox, it tells how the man known as 'Bill W'  co-founded
Alcoholics Anonymous with Dr Bob Smith, pioneered
the '12 steps', helped AA grow and –  finally –  set it free:
Alcoholics   Anonymous'   co-founder   Bill Wilson  is
struggling to stay sober. His depression, womanising,
physical illness  and collapsing  marriage  are  taking their toll.
Under criticism from fellow recovering alcoholics  Bill
instigates  an encounter with an old friend who suggests a
way through his  troubles.  Following his suggestions
Bill risks all, and sparks  events leading to the final
and greatest chapter in his and AA's destiny..
~~~:o:~~~
CAST:
Bill Wilson – Jay Benedict
Lois Wilson –  Cathy Walker
Bob Smith – Mike Williams
VENUES:
Tara Studio
356 Garratt Lane Earlsfield London SW18 4ES.
Dates: Tues 9th – Sat 13th Nov.
Time: 7.30pm.
Tickets: £9.50/£7.00 conc.
B/O: 020 8333 4457 Online: www.tara-arts.com.
Oxford House Derbyshire St Bethnal Green London E2 6HG.
Dates: Mon 15th – Sat 20th Nov.
Time: 7.30pm.
Tickets: £10.50/£8 conc.
For these performances tickets can only be purchased on the door in cash or online at:
www.OneDayAtATime.express.iristickets.co.uk
Riverside Studios Crisp Rd Hammersmith London W6 9RL.
Dates: Tues 23rd – Sun 28th Nov.
Time: 7.45pm. Tickets: £12.50/£10 conc.
B/O: 020 8237 1111 Online: www.riversidestudios.co.uk